The arts empower. The arts give a voice to the voiceless. The arts help transform American communities and, as I often say, the result can be a better child, a better town, a better nation and certainly a better world. Let's champion our arts action heroes, emulate them and make our communities everything we want them to be." ~ Robert L. Lynch, President, Americans for the Arts
The Myrtle Beach Film Institute is a very unique program. It is a full film school, teaching all aspects of film making from script to screen, plus the business in between.
What makes it so unique? It is free!
Founded by the Myrtle Beach International Film Festival, it follows the passion and basic rule of its founder, Jerry Dalton, that "No one should be barred access to art, due to financial constraints".
We understand that although no one pays for the education or experience of being in a film on a 55 ft big screen in a state of the art first run theater, nothing is for free.
Jerry Dalton picks up the tab. Therefore we see the good that he brings to the community and the access he provides that would otherwise would not exist.
The CAE has helped to fund this wonderful program.
The Myrtle Beach Film Institute
During the first year of this program, the discovery of what the Myrtle Beach Film Institute has provided for so many was actually much deeper than art, it became a place of finding and rediscovery of one's self. As stated by some of the participants, it was actually life saving, finding a place that provided an outlet when there was no other place to turn. Jerry Dalton has a gift in helping others find purpose and re-direction. Many of the participants state that they cannot wait until Thursday night, it is something that gives them true meaning and drive.
Making this program free, allows access to those that do not have the financial backing, we understand the value in art and the human spirit. The human spirit only needs a launching pad to fly to heights never before imagined.


The school meets once a week for 2 to 3 hours, and during filming as needed. During this program, film enthusiast, be it behind the scenes or in front of the camera, find acceptance and purpose. They learn all aspects of film making, then actually make films that debuted on a 55 ft screen in a local 14 screen cinema. Complete with a red carpet event and after party. The benefits of this program reach far beyond the big screen, it reaches the heart and soul, it opens people to culture and art in a grand way. And they make some pretty neat movies too!
This unique film program is currently being sought after in other areas of the United States. The CAE is seeking funding to bring this opportunity to those areas.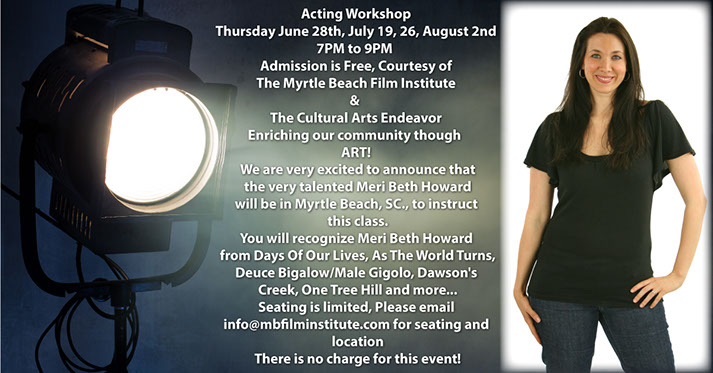 Meri Beth Howard is an accomplished actress. She has been so gracious to join forces with the Myrtle Beach Film Institute offering acting workshops for free.
You will recognize her from Days Of Our Lives, As The World Turns, Deuce Bigalow/Male Gigolo, Dawson's Creek, One Tree Hill and more...
Once again this class is free and offers education, opportunity and access to people of all walks of life regardless of their financial situation.
She teaches slate reading, cold reading, monologues, acting, method acting and preparing for auditions plus much more.
Having open access to talent such as Meri Beth Howard and Jerry Dalton provides so much for so many. The CAE is dedicated to helping continue this endeavor.
Katya Wentz is a phenomenal artist who is on her way to being discovered.
Originally from Siberia, she moved to the United States of America to pursue her passion of art. Katya is working at a major retailer to help make ends meet, but her real love and talent lies in Painting. Such depth and emotional exposure, her art speaks to the soul. It is a mixture of joy and pain which is what makes up the balance of life.
The CAE has commissioned Katya to create a painting which will be auctioned off at the 2019 Myrtle Beach International Film Festival. The proceeds from the painting will go towards funding other artists to produce works that enlighten and touch emotions that only art can bring.
We feel it is important to support artists, not only through praise and a pat on the back, but also economically. They provide inspiration and beauty through thought provoking work.
She is one of many to come, which will be commissioned (hired) by the CAE to create what enriches us all.